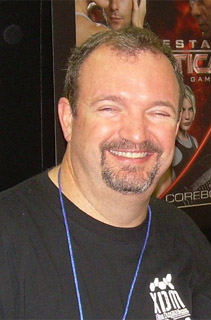 Tracy has worked as a supermarket stockboy, a movie projectionist, a theater manager, a glass worker, a television assistant director, and a drill press operator in a genealogy center. It was in 1981 — between jobs and wanting to buy shoes for his children — that he approached TSR about buying two of his modules . . . and ended up with a job instead. That job lead to his association with Margaret Weis and their first publication together: the Dragonlance Chronicles.
Since that time in 1985, they have jointly authored over forty book titles. Tracy's first two solo novels, "Requiem of Stars" and "The Immortals" were published in the spring of 1996.
More recently, Tracy and his wife Laura have been able to fulfill a long-time dream; they once again are writing together. Their first joint novel, MYSTIC WARRIOR, was published in 2004 and they look forward to a long and exciting career together.
Tracy & Laura Hickman began teaching seminars and workshops on creative writing at the Writing and Illustrating for Young Readers conference at Brigham Young University. In 2010, they began offering their writing course online at their Scribe's Forge website. Their course includes both online download course materials as well as live video webinars with Tracy personally conducting the sessions.